Typically, metal roofs last more than 50 years, whereas an asphalt roof can last approximately 17 years, depending on local weather conditions. A metal roof will likely be the LAST ROOF you will ever put on!

Aussie Roofing is your metal roof installation professional choice for the San Francisco Bay Area. We offer metal roofing from Custom-Bilt Metals®, a leading metal roofing manufacturer and supplier of seamless rain gutter systems, standing seam metal roofing systems fabricated from steel, aluminum, and copper; as well as Kynar-500 finished steel tiles and shingles, aluminum shake, copper shingles, and various stone-coated products.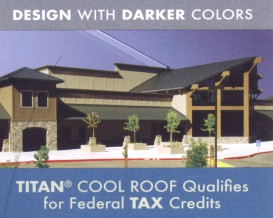 Thanks to a new premium coating, Custom-Bilt Metals® standing seam roofs greatly reduce heat absorption, which can save energy, lower cooling costs, and increase the life expectancy of the roofs by reducing expansion and contraction. A great addition to your green energy efficient house plans! This breakthrough now enables architects to design roofs with medium and dark colors. The key to these benefits is the introduction of new ULTRA-Cool high reflective roofs, and new technology developed by BASF Corporation's Industrial Coatings Division.
Custom-Bilt Metals® has been one of the top metal roof brands serving the seamless gutter and metal roofing shingle and shake industries since 1974. Contact Aussie Roofing today for all your needs regarding seamless rain gutter systems, aluminum roofing shakes, metal copper colored roofs, steel shingles as well as other metal roofing materials. Additionally, Aussie Roofing offers Berridge Metal Roofing Systems.
Cool Roof Metal Roofing
For Residential and Commercial Applications:
Ideal for Northern California Industrial Structures
Today's investment-grade metal roofing products are beautiful, long-lasting and cost-effective. With superior energy efficiency and environmental benefits, it's no surprise that owners, architects, and builders across North America have more than doubled metal roofing use over the last five years!
This industry growth is due to the LAST-TIME® metal Cool Roof products by Custom-Bilt Metals® using emerging technologies that weren't available in earlier products. Thanks to steel-bonded metallic coating this new technology provides:
No more cracking or peeling
No color fade
LAST-TIME® products are fire-resistant
Reflect heat in the summer, and provide insulation in the winter. Result: lower energy and insurance bills.
Stands up to harsh UV rays, ice, severe storms—even winds equal to an F2 tornado
LAST-TIME® products can cost less than half the price of asphalt composition roofing and about a third of wood shakes.
Hot Outside. Cool Inside.
LAST-TIME® Metal Roofing products use a trademarked technology called ULTRA-Cool® by BASF Corporation, that reflects more heat than any other roofing material on the market. A TITAN® Cool Roof is a premium two-coat system based on the same 70 percent PVDF (Polyvinylidene Fluoride) resin-based coating system supplied as Kynar 500® and Hylar 5000®. Kynar 500® PVDF or Hylar 5000® PVDF are in use on many prominent commercial buildings around the world, such as the Petronas Towers in Malaysia and Taipei 101 in Taiwan. The reflective cooling ability of TITAN® Cool Roof technology is an essential ingredient in metal roofing details for residences as well as on other commercial metal roofs.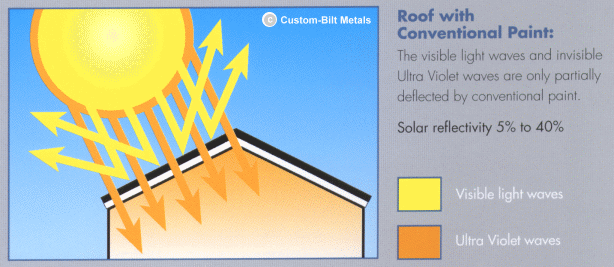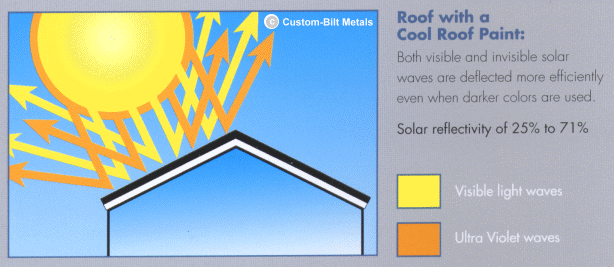 Warm and Cool Roof Colors

HOW COLOR AFFECTS HEAT
Tests have shown that on a 90-degree day, a black roof will have a temperature of 190 degrees at its surface, while a white roof will have a temperature of only 110 degrees. However, white roofs are seldom desired by architects and building owners. Darker colors make a stronger statement of style and aesthetics.

NOW, DARK COLORS CAN BE COOL
To meet the growing need for energy-effecient roofs without sacrificing style and beauty, BASF Chemical Corporation developed a palette of Cool Roof Color Materials (CRCMs) that look dark in color to the human eye, yet reflect most of the sun's energy. This breakthrough now enables architects to design roofs with medium and dark colors.
TITAN® Cool Roof Advantages
Saves money: Reduces energy costs by up to 20%
Reflects heat: Reflects up to 60% of the total radiation generated by the sun
Extends roof life: Roof life is extended due to lesser expansion and contraction of roofing materials that occur during extreme fluctuations in temperature
Adds beauty and value: Popular colors have architectural appeal, and PVDF coatings provide added protection to roof
Dark color advantage: Now have a medium or dark colored roof with the same heat reflective abilities as a white roof
True, lasting colors: 35-year warranty against color-fade (20-year warranty adjacent to salt water)
Code compliant: Fire-, hail- and wind-resistant
Non-combustible: Further protects residential structures from wild fire danger
Financially smart: Monetary incentives are increasingly being offered and fire insurance premiums are lower
Better for the environment: Metal is 100% recyclable and the high reflective paint systems reduce the urban heat islands that contribute to the accumulation of smog conditions in urban areas—a true "green roof"
Energy Star® compliant: Helps the roofs of both residential and commercial buildings meet the Energy Star® specifications for Cool Roofs
Higher emissivity: Values for ULTRA-Cool coatings exceed 80% so interior space stays cooler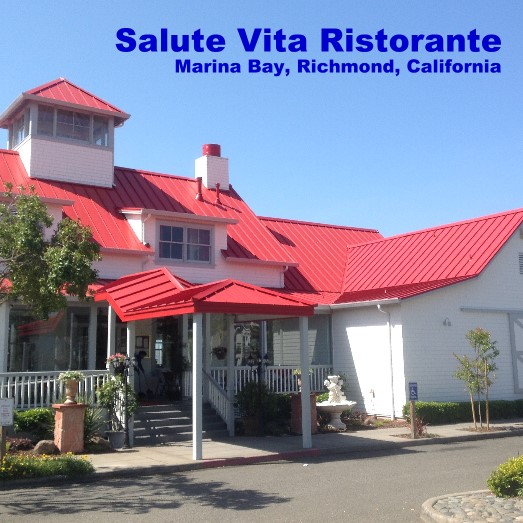 The above Standing Seam aluminum roof has beautiful red paint with "clear top coat" finish by Custom-Bilt Metals®. Custom installation by Aussie Roofing. Insulation under the roof is Solar Guard Radiant Barrier Insulation with fiberglass scrim between foil sides, providing a Class A Fire Rating.

This roof has a 20-year warranty, as it is adjacent to salt water (35-year warranty applies under normal conditions); is lighter weight (1 ½ LBS per Sq Ft), and is available in over 25 colors. Custom colors can also be created subject to minimum volume requirements.
Click on the following thumbnail images of Salute Vita Ristorante to see the larger image:


---
Our Gutter/Standing Seam Metal Roofing Machine
We can meet all your metal seam roll forming needs with our portable gutter machine, ranging from 13 profiles of continuous gutters and 10 profiles of standing seam metal roofing.
---
Metal Roofing Styles and Colors Enhance Your Building

TITAN® Standing Seam Metal Roof
TITAN® Standing Seam Profiles, from the LAST-TIME® family of roofing products, is a very popular roofing choice for commercial and residential housing using prefinished or bare zincalume steel, galvalume, G-90 galvanized steel, or copper. Standing Seam creates dramatic shadow lines to accent the roof. Select from several different profiles available in over 25 colors. Custom colors can also be created subject to minimum volume requirements.
Thinking of flat roof home remodeling? Consider the elegant ease of TITAN® Standing Seam for cooling a flat top roof. (Must be a minimum of at least 1/4 inch in the foot slope.) LAST-TIME® products by Custom-Bilt Metals® are the smart choice for any size building project.
---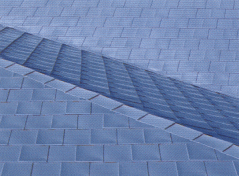 Select the classic look of shingles for your roof and enjoy all the benefits that Cool Roof products offer. The individually crafted, interlocking VAIL Titan Shingles come with the LAST-TIME® warranty. VAIL Titan Shingles and Metal Shakes feature easy installation, timeless beauty and outstanding performance. Compare metal shake roof materials and you'll find VAIL Titan Select as some of the best!
VAIL Titan Select shingle panels are folded at intervals across the panel to give the appearance of traditional dimensional shingles. They are installed "shingle fashion" progressing upward and across from right to left—creating a seamless, attractive roof.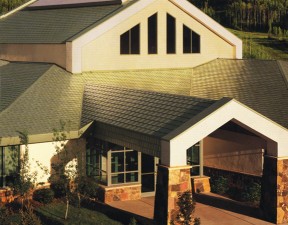 Heavy-gauge metal construction ensures that VAIL Titan Select shingles stand up to natural elements, including extreme temperatures, high winds and heavy snow loads. The tough, interlocking design means that your shingles will stay put and keep moisture out. VAIL Titan Select means outstanding performance and weatherability with a Class A Fire Rating; and backed by the Custom-Bilt Metals® lifetime warranty, provides the satisfaction you need from your investment.
With no hassles and no worries, VAIL Titan Select is easy to care for. No painting or repair is needed to keep it looking like new.
One look at VAIL Titan Select shingles and it's easy to see how beautiful they are going to be on your roof. With a broad range of over 25 colors available, VAIL Titan Select lets you create just the right look to express your personality.
VAIL Titan Select shingles are made of heavy-gauge, Kynar-coated Galvalume panels—ideal for all weather, especially regions that experience severe storms. In most cases, panels can install easily over existing asphalt roof materials.

Looking for energy efficient housing ideas, or how to cool hot attics? With the TITAN Cool Roof Reflective Paint System, featuring BASF and Kynar 500 reflective pigmentation technology, your roof will deliver highly effecient cooling performance with long-lasting color retention.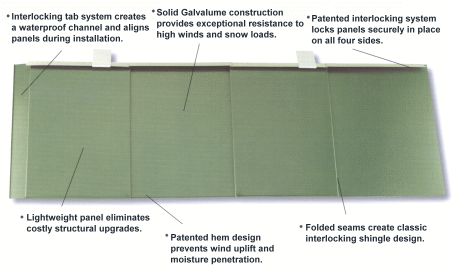 ---
VAIL Majestic Copper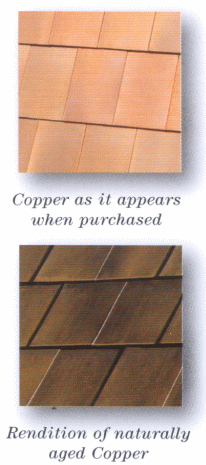 VAIL Majestic Copper gives your roof an attractive, traditional look that complements nearly any style of home. It's solid copper construction means it can easily withstand the harshest conditions, including extreme temperatures, heavy snow, high winds and wild fire threats. Having a Class A Fire Rating along with the Custom-Bilt Metals® lifetime warranty behind it, your investment will provides years of beautiful performance.
VAIL Majestic Copper naturally changes color from the brilliance of new copper to the distinctive, elegant patina of aged copper—an historic metal roofs for log cabin look. How quickly the color deepens depends on the amount of sunlight and moisture it receives, as well as your home's geographic location and elevation. Wherever you live, your copper roof will provide you with ever-evolving beauty.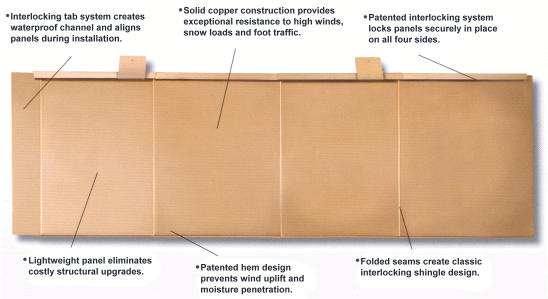 VAIL Majestic Copper is fabricated from 16-ounce solid copper coil. An exclusive manufacturing process adds dimension to the panels, improving the strength of each shingle. The panels are lightweight and install easily over most existing asphalt roof material, eliminating costly tearoffs. VAIL Majestic Copper requires virtually no special attention or cleaning to maintain its classic good looks year after year.

Need copper gutters? Aussie Roofing can install a wide selection of styles including "half-round" and embossed copper gutters.
---
Aluminum Shakes
Seeking to improve wood shake roof life? Country Manor Aluminum Shakes provide the look of authentic, hand-split wood shakes, while double, and even tripling your roof life! Country Manor Aluminum Shakes create a roof that not only protects your financial resources, but also keeps out rain, snow, wind and fire—while beautifying your home. With a Country Manor Shake roof you are buying security, longevity, durability and beauty. Although original aluminum roofs have lasted over two lifetimes with no finish, Country Manor Shake uses advanced Kynar 500/Hylar 5000 coatings to give you even more protection.
Available in ten beautiful Perfection colors.

The Country Manor Aluminum Shake is most commonly selected for the following applications:
buildings where asphalt shingles are now in use
buildings where wood shakes are now in use
new construction
single family and multi-family residences
store fronts
energy efficient house plans

Benefits:
look of authentic, hand-split wood shake
non-prorated Lifetime Warranty on both materials and labor
Lifetime Limited/40-Year Transferable Warranty
saves money—often installs right over existing roof
U.S. Energy Star Partner
with reflective pigments embedded in Kynar 500/Hylar 5000 finish, radiant heat from the sun is reflected away—even when the roof is a dark color
reduces energy costs up to 20%
how to cool hot attics: reduces attic heat gain up to 34%
rust-free
resists hail
resists winds up to 120 m.p.h.
Class A, B, C fire rating
protects your home from airborne sparks created from wild fires
Kynar 500 "No Fade" premier surface coating—will not rot, crack, split, curl, break or burn
when installed, the flanges all interlock to provide a mechanical connection to adjacent shingles
shingles utilize a hidden clip for attachment
made of .019 gauge lightweight, recycled aluminum, producing less stress-load on your home
weights 80% less than standard shingles
weights 93% less many tile roofs
earthquake damage control: the low-weight load protects against structure damage in the event of seismic activity
F.A.Q.'s:
Will rain or hail be noisier?


Deep texturing creates structural rigidity which eliminates "pinging."


Warranted against chipping or leading due to hail.
Can I walk on Country Manor Shake?


Yes. Of course, you should always walk with care on any roof, but unlike other roofing products, our permanent metal roofs do not get brittle or break away with age.


Resists damage in future years same as it does when new.
What will Country Manor Shake do to my home's value?


Increase your home's value today and in the future.


Add unsurpassed beauty and lasting curb appeal.