Aussie Roofing offers to you the most environmentally sustainable roofing products in the industry; providing an eco-friendly, durable and aesthetically pleasing solution to your roofing design issues with regard to sustainable buildings. We also offer a selection of "green" energy ideas for altering homes to be more energy efficient. This can not only save you money but enhance and expand the living area of your home.
VELUX Skylights, Roof Windows, Sun Tunnels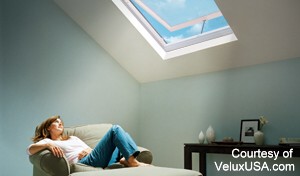 Natural Light and Fresh Air: Rooms filled with natural light and fresh air are more beautiful, spacious and uplifting to your spirit. Daylight is an essential element transforming your home and your life. And then there's the breeze. VELUX skylights and roof windows let you bring the best of the outdoors inside with you.
High quality, energy efficient skylights are an important part of building today's green friendly homes and commercial buildings. Daylight is free, reducing not only your lighting costs, but also the energy consumption load placed on our environment to produce power. The effect that natural lights has on you physically, emotionally and psychologically is well documented. People living in well-lit homes are healthier, creating less of a burden on our medical resources.
Natural light is especially beneficial for children and seniors. Studies suggest:
As we age we are less likely to fall in well lit areas. 90% of hip fractures are the result of falling. Falls are the leading cause of accidental death in the elderly population.
Proper lighting helps to keep our circadian rhythm (internal clock) on schedule. Sleep disorders caused by circadian rhythm imbalance can cause medical problems.
Students in well lit classrooms show signs of growing faster, better attendance, and healthier teeth. This transfers to the home as well.
Students also do better in school when learning in a well lit environment. 26% better in reading, one study confirms.
VELUX skylights, roof windows and sun tunnels are built to be leakproof. VELUX flashing systems are designed to shed water without relying on sealants—which can break down over time.
Over the last 60 years VELUX has been the world leader in the roof window and skylight industry.
VELUX is the preferred brand for American contractors according to every national survey of building industry professionals.
VELUX holds more than 300 patents in roof window and skylight design.
VELUX leads the industry as the only manufacturer with all standard skylights meeting ENERGY STAR® approval guidelines for all climate regions of the U.S. With VELUX you promote energy efficiency and save money on utility bills—while making your home brighter and more comfortable.
VELUX uses the most modern of technologies to achieve energy efficiency. To reap the green benefits associated with roof lighting, it's crucial that we block out heat gain associated with UV penetration, while minimizing air leakage, keeping in place the conditioned air inside your home. VELUX injects argon gas between the panes of all of our glass and use Low Emissivity coatings to make VELUX products the most energy efficient and environmentally supportive in the industry.
VELUX understands the importance of green friendly manufacturing. As a result, all areas of the VELUX process, including product design, raw materials, production methods and the use of technologically advance equipment meet our highest environmental review standards.
VELUX Environmental Certification: ISO 14001:
The US Green Building Council, in working to promote buildings that are environmentally responsible, profitable and healthy placed to live and work, has created the LEED rating system. LEED is one of the tools used to develop design guidelines, policy positions and industry standards for the promotion of sustainable designs for commercial buildings.
Because VELUX skylights provide natural lighting, they are by nature a good element for a sustainable design and can be a great source of LEED credit in any commercial design, specifically in the following categories:
Energy and Atmosphere—Optimizing energy performance (ENERGY STAR)
Materials and Resources—Products manufactured in Greenwood, South Carolina
Materials and Resources—Use of certified wood (either PEFC or FSC)
Indoor Environmental Quality—Controllability of systems (electrical skylights and blinds)
Indoor Environmental Quality—Daylight and Views (75% of daylight space requirement and outdoor view from 90% of the space)
Building owners, occupants, and code officials are increasingly sensitive to energy use (and costs), and are demanding more efficiency from the products they buy and endorse. Favorable Federal tax treatment for consumers and the ever-growing "green building" movement reinforce this fact.
VELUX products meet those demands. With more than 90% of VELUX production ENERGY STAR® qualified in all United States climate zones, you know that enhancing your spaces with VELUX products can be done with efficient solutions.
EXTERIOR HEAT CONTROL: The best protection for heat gain is an exterior awning that stops the heat before it hits the glass and penetrates into the room.
WEATHERTIGHT FLASHINGS: Leakproof flashings are a must for every skylight. That is why VELUX has been offering prefabricated VELUX flashing systems for most roof materials for more than 50 years.
COMFORT GLAZING: Comfort glazing is standard in all VELUX skylights. This allows you comfort on hot summer days and on cold winter nights.
SKYLIGHTS AND ROOF WINDOWS: VELUX offers a wide assortment to meet any need—light and ventilation, roof construction, roof material, roof pitch or ceiling type.
INTERIOR LIGHT CONTROL: A huge assortment of blinds and shade are available to meet any needs you may have to diffuse, adjust or block out the light in your room. The blinds will also save you money on your energy bill.
CONVENIENT CONTROLS: Control of the skylight and blinds, and integration of the functions are available in VELUX manual telescopic rods and in VELUX electric infrared remote controlled systems.
VELUX SUN TUNNELS: Sun tunnels add natural light to places you thought were impossible and reduce energy costs; contributing to the style, beauty and value of your home. Ideal for closets, laundry rooms, hallways and baths. VELUX Sun Tunnels have:
A low-profile dome design which parallels the slpe of the roof for attractive appearance
Dual diffuser system reduces chance of condensation
Even light distribution without hotspots
One-piece flashing design with baked-on enamel finish to fit shingle/shake roofs; tile flashing is available as a special order item
24 guage Zincalume metal flashing with vertical collar provides 3 to 4 times more weather resistance
Ceiling frame has flush mount white ceiling ring with matching caps to hide fasteners.
For inspiration on the possibilities for your home or business, visit VELUX Image Galleries or a link below:
---
EcoStar: Sustainable Beauty while Preserving the Environment with Polymer Plastic Roofing Shingles
EcoStar is dedicated to improving the environment, manufacturing roofing tiles that are composed of up to 80% recycled post-industrial rubber and plastic polymers. These post-industrial materials consist of waste that includes car bumpers and baby diaper production remnants. The manufacture of EcoStar tiles prevents these materials from ending up in landfills. Because of their recycled content, EcoStar roofing tiles feature incredible strength and flexibility while providing long-lasting performance.
Utilizing EcoStar products preserves valuable natural resources—no trees are used and no stones are quarried.
EcoStar's timeless roofing creates the beauty of natural slate or shake; embodied in modern technological performance. EcoStar is the premier manufacturer of steep-slope premium roofing:
EcoStar Majestic Slate™: nearly half the weight of slate, with sustainable durability
Synthetic slate vs slate roofs: EcoStar being nearly half the weight, minimizes costly structural support
EcoStar Designer Series and Titus Tiles™ offer the unique shapes and color palettes of Beaver Tail, Beveled and Chisel Point tiles
EcoStar Seneca Cedar Shake Tiles™ combine the cedar shake look with the strength of modern eco-technology
Class C and Class A fire ratings available
110 mph wind warranty available
50-year product warranty available
Prolonged UV exposure ASTM G26-95
Visit the official EcoStar Web site to whet your interest in this amazing, new product!
---
US TILE Authentic Clay Tile Achieves Cool Roof Standards
A US Tile Cool Roof can:
Lower itility bills: a typical home can experience a reduction of 10/% to 20% in air conditioning-related energy usage
Help save energy during peak demand periods
Qualify for PG&E and SCE Cool Roof Rebate Programs to rebate as much as $.20 per square foot of installation
Prolong the life of roof underlayment by reducing heat stress, which can create premature failure
Reflect the sun better and dissipate heat more efficiently
Reflect up to 53% of the sun's solar energy with Authentic Clay US Tile Cool Roof tiles—asphalt shingles reflect less than 10%
Give off heat rather than absorb and hold it—US Tile Cool Roof tiles have an 86% thermal emittance
Deliver 36% less ceiling heat fluctuation than concrete tile—saving energy by reducing the strain on cooling systems
Absorb less heat and release the heat faster than asphalt shingles and concrete tile, creating greater energy efficiency.
Visit the official US TILE Web site and go to Products and click on "Cool Roofs" for more info.
---
ASC Building Products: Now in Cool Energy Technology
DuraTech® xl keeps the heat out and the color brilliant! ASC Building Products' exclusinve DureTech®xl coating system creates superior color retention and resistance to chalk and fade, along with ASC's corrosion resistant Zincalume® protecting steel metal roofing.
The advantages of an ASC Steel Roof:
Energy efficient
Easy to maintain
Long lasting, with a limited lifetime warranty
Metal roofs are fire rated as non-combustible
Non-corrosive housing using Zincalume® steel
Lightweight—minimizing costly structural support
Environmentally friendly as metal roofs are 100% recyclable
ASC specializes in the difference between warm and cool roof colors
All colors in Skyline Roofing® haave been developed as energy efficient by Energy Star standards
Skyline Roofing® is made of 25-30% recycled content—conserving steel-making resources
Skyline Roofing® can be installed directly onto an existing asphalt roof—reducing landfill waste and installation time.
Visit the official ASC Building Products Web site for more information on energy-saving metal roofing.
---
Green Environmental Links:
Energy Star
www.energystar.gov
National Center for Healthy Housing
www.centerforhealthyhousing.org
Energy Efficiency and Renewable Energy
www1.eere.energy.gov/buildings/
A Sourcebook for Green and Sustainable Building
http://www.greenbuilder.com/sourcebook/
Cool Roof Rating Council: An independent, non-profit organization maintaining a third-party rating system for radiative properties of roof surface materials.
http://www.coolroofs.org/
Web site designed by NetResult Web Marketing