Guidelines: Roof Ventilation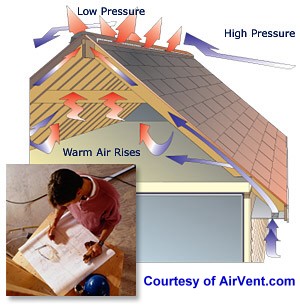 Ventilation provides the conditions that allow air to flow—out with the hot air and in with the cool air. When stale, overheated air in your home or attic is vented out and fresh air is pulled in you have an "air exchange."
Effective ventilation requires a balancing act. You want to "wash" the entire attic by pulling air from the intake vents low on the roof's edge, or in the soffit, to the vents at the ridge in the high areas.
Ventilation should never be an afterthought in constructing a home. Without proper ventilation, needless heat and humidity can become serious problems, such as:
Surplus heat and moisture can cause attic and roof structures, plus shingles and paint to deteriorate prematurely
Excess heat causes air conditioners to work more, consuming more energy and costing you more money
Extra moisture can lower the R-value (R-value is heat resistance) of some insulation
Excess moisture and humidity enable mold, mildew and wood rot
Proper ventilation is required to validate warranty coverage for most roofing shingles.

House Roof Ridge Venting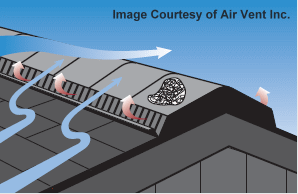 In independent tests against competitive ridge vents, Air Vent products produced the greatest amount of low pressure above the vent, which resulted in a greater ability to exhaust air from the attic. Two unique features contribute to the superior performance of Air Vent, making it the best roof ridge vent:
External Wind Baffle deflects wind—even the slightest breeze—up and over the vent, creates low pressure to "pull" air out of the attic, and help prevent windblown rains and snow infiltration.
Internal Weather Filter deflects rain, snow and insects to provide a more complete weather barrier. This filter is NOT treated with any oils or chemicals.
Unbaffled Ridge Vents:
An unbaffled ridge vent allows wind and elements to blow directly in through the ridge vent. Air entering the vent can create pressure in the attic which prevents air and moisture from being pulled out.
Wind and elements can blow directly in through the ridge vent. Air entering the vent can create pressure in the attic which prevents air and moisture from being pulled out.
The Simple Mathematics of a Balanced Ridge Ventilation System:
A balanced ventilation system is one that best employs three natural forces: air pressure, thermal effect and diffusion. For every square inch of ridge (exhaust) vent you must balance it with at least one-square inch or more of soffit (intake) vent. Most building codes define a "balanced" ventilation system as one-square foot of ventilation for every 300 square feet of attic floor space, with half the ventilation represented by intake vents and half by by exhaust vents.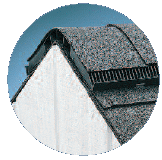 For an attic ventilation system to work properly, the volume of air intake must be equal to or exceed the air exhaust. With a ridge vent system, intake vents must be placed low on the roof, usually in the eaves. Years of research have proven that Air Vent ridge vents, combined with under-eave venting, are the most efficient and effective system you can install.
This balanced system provides greater airflow than any other fixed vent—and it's the most attractive system.
Ridge Vent Versus Roof Vent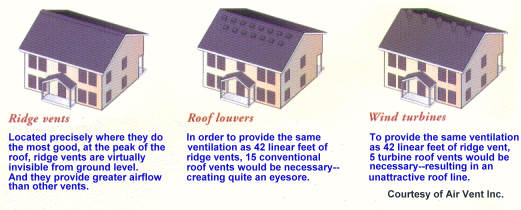 Ventilation of Energy Efficient Houses
What type of ventilation system is right for you? Air Vent Inc. has provided a great online educational tool for understanding the difference between ridge vents, power vents and static vents; solar-powered vents, gable-mounted vents, louvers, rotating turbine roof vents and more. Learn about the types of vents now.
Aussie Roofing has the right vent application for your roof type: whether composition shingles, dimensional shingles, stone coated steel, cedar shakes, tile, slate or metal roofing. We know what you need, and can do it! Give us a call today at (415) 472-2800 or fill in our Roofing Estimate Form for improving your ventilation situation today!




---
California recently passed new Attic Ventilation Codes for resisting the intrusion of flames and embers into the home. This new law requires application to the new code requirements only if the rafters are exposed at the time of re-roofing. However, to better safeguard any home or business, upgrading your vents can help to save your building during a wildfire.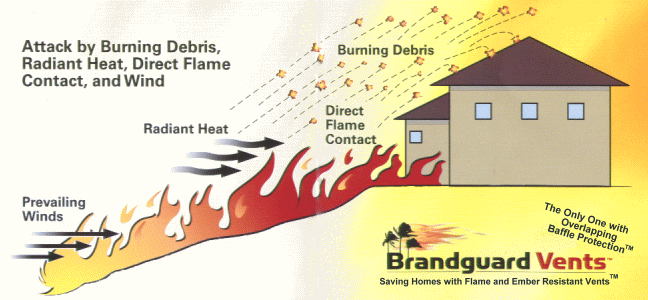 Saving Homes with Flame and Ember Resistant Vents™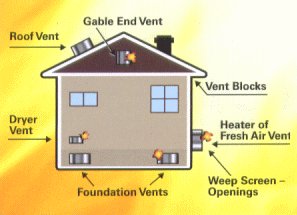 Aussie Roofing offers Brandguard Vents™ for residential and commercial buildings to meet the new flame and ember resistant requirements. Conventional vent designs are vulnerable to radiant heat sources, direct flame impingement, and lofted fire brands which can attack your structure at its most vulnerable points—the vents. The majority of wildfire damage is caused by fire embers well before, or after, the front of the fire. Embers can fly directly into a home through the vents.
Brent Berkompas, the owner/founder of Brandguard Vents™, is a firefighter for the City of San Bernardino. While fighting the 2003 and 2007 California wildfires, he saw firsthand the susceptibility of thousands of homes to vent intrusion. Structures burn from the inside out during wildfires. Knowing that something must be done to prevent this, that's when his patented baffle design was born.
The baffle design acts as a heat sink and reduces the threat of fire brands entering through vent openings. The baffle design also changes the flow of air and creates a heat trap, thwarting damage from radiant heat sources. This design has comparable net-free vent area to traditional vents and allows for sufficient exchange of moist air—preventing mold problems.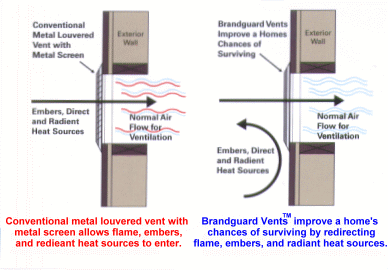 Patent pending design acts as a heat sink
Resists fire ember and direct flame intrusion
Helps prevent other sources of fire and smoke damage
Maximizes air exchange
For new and retrofit buildings
Retrofit Fireplug Products
Brandguard Vents'™ line of Retrofit Fireplugs inserts easily over most existing Undereave/Soffit and Foundation Vents. No need to remove your existing vent.
Step 1: Existing Mesh Vent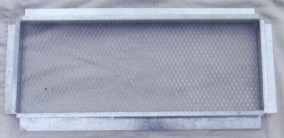 Step 2: Apply adhesive first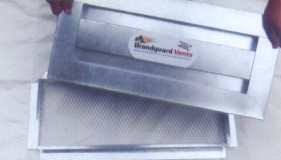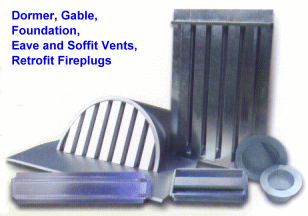 Step 3: Insert Brandguard Vent™ over existing Mesh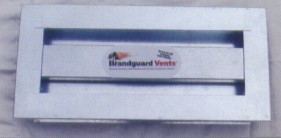 (For Gable End and Dormer Retrofits, it is necessary to cut out old vent louvers first, prior to inserting Brandguard Vents™.)
Every home will have a better chance of survival with Brandguard Fire Prevention Vents!
Give us a call at Aussie Roofing today at (415) 472-2800, or fill in our Roofing Estimate Form for improving your ventilation situation right away!
---
Besides types of roof ridge vents, Aussie Roofing can provide several venting options from Air Vent, Brandguard Vents™, COR-A-VENT and O'Hagin's vents for your roofing needs.
---
Web site designed by NetResult Web Marketing